Lots of boat building going on in the shop, lots of sailing too.  We've got videos to show you!
First sail of the season aboard RoG.  What a sweet, sweet boat. This video gives such a true glimpse of the feel of that boat.  Fun, smooth, relaxed, fast.
The build is going well.  The boat will be a breeze to assemble.  Thmoas is doing a good job, learning as he goes.  I'm keeping an eye out to see where he gets stuck, to see how I can make that a beginner-proof boat.  I'm really looking forward to have this one in the water,as 13ft is a very manageable size yet with its 5ft of beam, it'll have plenty of stability.  The plan is to have the boat in the water within the month, so that we have good footage for the St Pete Boat Show.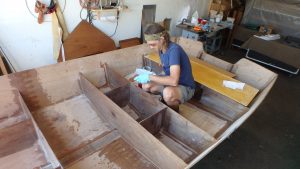 This is the latest device I've added to the CNC.  The kits will now come with more info written directly on the panels.  The plotter can write in pencil, marker or any media that i choose.  Waterlines, centerlines, panels ID of course.  This is a little video of the plotter in action
On top of that, we have lots of other projects.  First and foremost, we are providing all engineering and CNC-manufacturing for Peerless Marine Seats. Peerless creates the most amazing, high quality seats in the industry.  They come standard in Edgewater boats as well as Barker.
Plus we're collaborating with Laurie McGowan of McGowan Marine Design, helping him completing some plan sets and trying out some CNC waco stuff, like this 2 parts carbon mast plug
Then we have a collaboration in the pipeline with designer Hugh Horton for a 12ft sailing skiff called Clam Girl.  I'll have a lot more info for you after (or during, if you're lucky enough to be there) the Cedar Key Meet in November.