Description
Save on shipping and materials with our downloadable R1430 Recreational kayak plan set.  With this purchase, you'll get digitally protected files that you can print yourself.
Included are digital files for:
24″x18″ (Arch C) Lines Drawing
24″x18″ (Arch C) Outboard Profile  & Deck Plan
24″x18″ (Arch C) Construction Profile & Plan
24″x18″ (Arch C) Construction Sections
24″x18″ (Arch C) Construction Details
24″x ±25ft Full-size templates (can be printed on 24″ roll printer)
8-1/2″x11″ Panels Layout
8-1/2″x11″ Panels List and IDs
8-1/2″x11″ Instruction manual
Once you place your order, please allow us about one week to complete your plan set and prepare your personalized copy of the files.
Check out the compete specs of this boat here
---
To complete this boat you'll need approximately:
4 sheets of 4mm marine grade plywood
1-1/2 gallon of epoxy
1/2 gallon of wood flour or other structural filler
12 yards of 4oz/sq.yd. Fiberglass cloth
30-40yd 6oz cloth tape x 2″wide
10ft carbon tow
Seat, footrests, hatch lids, paddle and other hardware.
Some fairing filler if the boat is to be painted
Upon completion of the order, you will receive an email from sales@bedardyachtdesign.com titled Your Bedard Yacht Design order from (date) is complete 
In this email, in addition to your order details, there is a download link (circled in red in the image below).  Clicking on this link will initiate the download of the purchased file.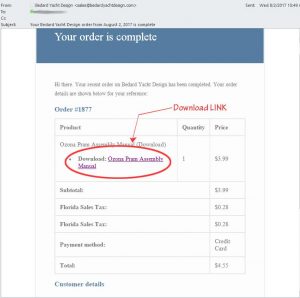 ---
Related Products