Description
This plan set will allow you to build the rudder, centerboard, tiller and mast step for the Ozona Pram.
It consists of downloadable files for:
24″x18″ (Arch C) Sailing Option Details
24″x43″ Full Size Templates
1 4'x8′ sheets of Marine-Grade 6mm Plywood (1/4″), you'll use ±1/4 of it.
1 4'x8′ sheet of Marine-Grade 9mm Plywood (3/8″), you'll use ±1/2 of it.
3-4 yards of 6ozX60″ cloth
±1/3gal. mixed epoxy
** This product is the same as what you'd get if you add the sailing option to the purchase of the Ozona Pram Plan Set (Download).  There is no need to add this product separately if you do so.
---
Upon completion of the order, you will receive an email from sales@bedardyachtdesign.com titled Your Bedard Yacht Design order from (date) is complete 
In this email, in addition to your order details, there is a download link (circled in red in the image below).  Clicking on this link will initiate the download of the purchased file.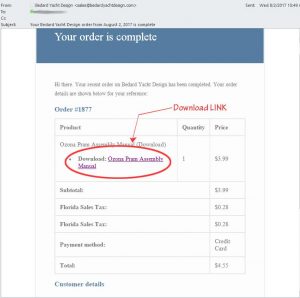 ---
Related products